See What Exhibitors Say About PRESENT Conferences
Desert Foot 2018 Photo Album
See the Conference Photos on Our Facebook Page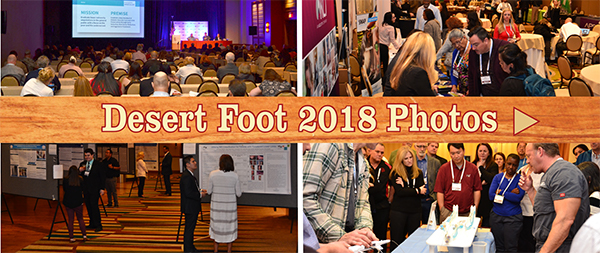 Individual Symposia /
Workshops /
Lecture /
Table-Top Opportunities
Promotional Industry Symposium (Non-CECH) (Morning or Afternoon)
$30,000
Promotional Industry Workshop
(Non-CECH)
$25,000
Conference Bag Insert
$2,500
Half-page Ad in Official Conference Brochure
$2,000
Sponsorship Packages
GRAND SPONSOR $100,000
Exhibit Table-Top
Promotional Industry Workshop (Non-CECH)
Promotional Industry Symposium (Non-CECH)
(Morning or Afternoon as part of main agenda) (AV included)
20 Conference Registrants
Room Drops (2 nights)
Sole Sponsor of Conference Bags
Sole Sponsor of Conference Lanyards
Full-page Ad in Official Conference Brochure
Grand Sponsorship Recognition as the Sole Grand Sponsor
Conference Bag Insert
Three (3) Meter Boards
E-mail Marketing
DIAMOND SPONSOR $80,000
Exhibit Table-Top
Promotional Industry Workshop (Non-CECH)
Promotional Industry Symposium (Non-CECH)
(Morning or Afternoon as part of main agenda) (AV included)
15 Conference Registrants
Room Drops (2 nights)
Half-page Ad in Official Conference Brochure
Diamond Sponsorship Recognition
Conference Bag Insert
Two (2) Meter Boards
E-mail Marketing
PLATINUM SPONSOR $50,000
Exhibit Table-Top
Promotional Industry Workshop (Non-CECH)


or

Promotional Industry Symposium (Non-CECH)
(Morning or Afternoon as part of main agenda) (AV included)
12 Conference Registrants
Room Drops (2 nights)
Half-page Ad in Official Conference Brochure
Platinum Sponsorship Recognition
Conference Bag Insert
Two (2) Meter Boards
E-mail Marketing
GOLD SPONSOR $40,000
Exhibit Table-Top
Promotional Industry Workshop (Non-CECH)


or

Promotional Industry Symposium (Non-CECH)
(Morning or Afternoon as part of main agenda) (AV included)
10 Conference Registrants
Half-page Ad in Official Conference Brochure
Gold Sponsorship Recognition
Conference Bag Insert
E-mail Marketing
SILVER SPONSOR $30,000
Exhibit Table-Top
Promotional Industry Workshop (Non-CECH)


or

Promotional Industry Symposium (Non-CECH)
(Morning or Afternoon as part of main agenda) (AV included)
6 Conference Registrants
Half-page Ad in Official Conference Brochure
Silver Sponsorship Recognition
E-mail Marketing
Exhibitor Forms
Complete the required Exhibitor Forms for any incidentals you may need for your booth by clicking on the following links. This includes power for your Table Top and AV needs for your Workshop. Once a table has been assigned, we will put an Exhibit Hall map (see Exhibit Hall tab) on the Website.
Exhibitor/Workshop AV - PSAV now handles all exhibitor orders for events at the Sheraton Grand Resort. To order any Audio Visual support for your exhibit booth and/or your workshop (including power & Internet) from PSAV, please contact Ashley Springer PSAV. She can be reached via email at aspringer@psav.com or via phone at 602-817-5475. Click Here for the Order Form.
Shipping Info
Brede Exposition Services has been selected as the Official Services Contractor for the 2018 Desert Foot Conference. A Desert Foot Conference Kit for all of your shipping needs will be sent soon.
Workshops
For Room Set-ups for your Workshops:
Daryl Ehrentreu, CMP, HMCC
Senior Director, Meetings Management
(888) 802-8410
daryl@presentelearning.com
Important! EVERYONE attending the Desert Foot Conference and working an Exhibit Table-Top or Workshop MUST REGISTER to ensure badges are available at check-in at the conference and also to reserve their hotel rooms. The registration process is quick and easy. Once you register, you will have the opportunity to add additional people and book their rooms in a single process. The room rate is $199 per night plus 12.57% tax.
Hotel reservations must be received on or before 5:00 PM, November 6, 2018. After this date, the Hotel will accept reservations at the Group rate based on a space- and rate-available basis.
Contact Info
Exhibitor Contact
Michael Shore, DPM
Director of Medical Education
Office: (561) 998-7556
Mobile: (954) 298-7000
mshore@presenteLearning.com
Exhibitor Contact
Darron Daly, MS, MHA, MBA
Vice President of Sales
Office: (561) 998-7556
Mobile: 561-504-4725
darron@presentelearning.com
Logistical Contact
Daryl Ehrentreu, RPh, MBA, CMP, HMCC
Senior Director, Meetings Management
(888) 802-8410
daryl@presentelearning.com