16th Annual Desert Foot Conference Provides Complete Educational Experience
About the Conference
The 16th Annual Desert Foot Conference Co-Chaired by Drs Charles Andersen, Lawrence Lavery, Lee Rogers, Tomas Serena, and Anthony Tickner led an esteemed faculty of 31 key opinion leaders over four days of knowledge sharing and learning. The many hundreds of Desert Foot attendees were exposed to evidence-based and best practices to improve limb salvage, advanced wound care techniques and treat surgical and medical disorders of the lower limb. The 16 rotating hands-on-workshops provided attendees with a more complete educational experience than lectures alone.
Paul Brand Award
The winner of the 2019 Paul Brand Award was Dane Wukich, MD, Professor and Chair of the Department of Orthopedic Surgery at UT Southwestern Medical Center, Dallas, TX, pictured here with Robert Frykberg, DPM, MPH.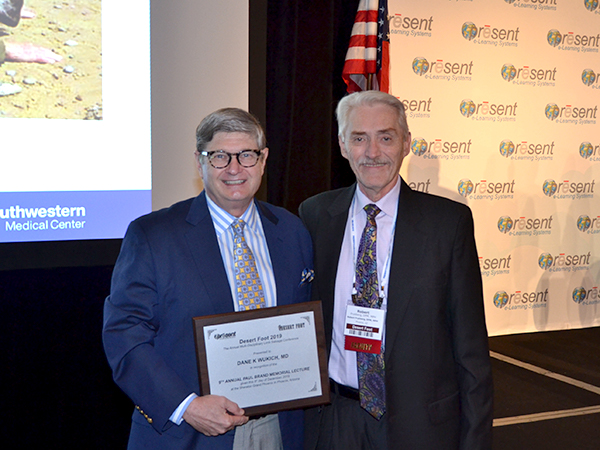 3M Awarded Grand Sponsor of
PRESENT Education
Derek Hughes of 3M (pictured with Michael Shore, DPM of PRESENT e-Learning Systems) was honored as the Grand Sponsor of PRESENT Education for 2019. 3M's generous support allows PRESENT e-Learning Systems to deliver the PRESENT Residency Education Online weekly curriculum to hundreds more podiatric residents across the country.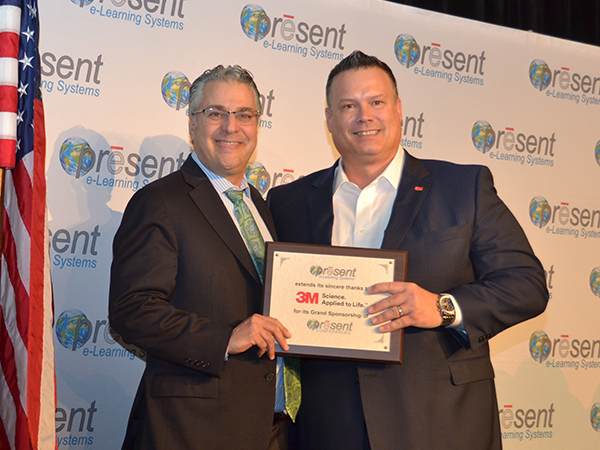 Lower Extremity Training Camp
This fast-paced information-packed program provided updated and current evidence-based information regarding the most common wound etiologies on the lower extremity with emphasis on edema manifestations and complications.
Click here for the Slide Presentations.
Click here for the Lower Extremity Lymphedema Exercises Handout.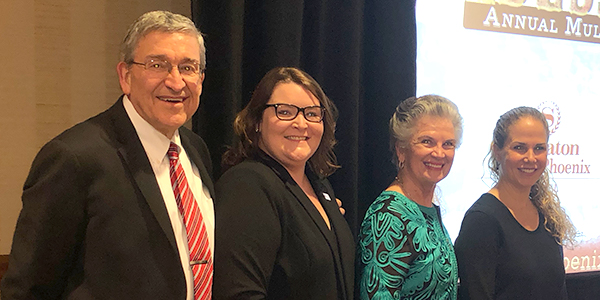 Pictured (L-R): James McGuire, DPM, PT, LPed, Marie Clarke, MSN, RN, CWCN, Pamela Scarborough, PT, DPT, MS, CWS, CEEAA (Moderator), and Heather Hettrick, PT, PhD, CWS, CLT-LANA, CLWT
Abstract Poster Contest
The Desert Foot Abstract Poster Competition, which plays an important role in the Conference and allows attendees the chance to present their own work to the community, was a great success this year.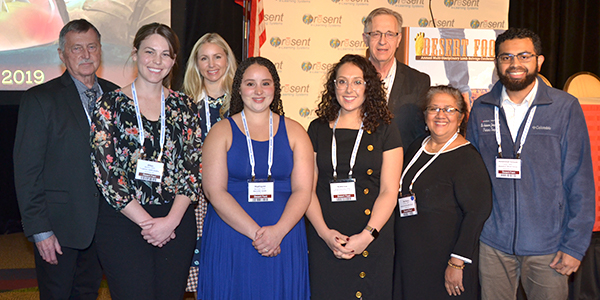 AAWC Track
The AAWC Wound Care Track contributed a whole day of lectures to the 22+ total continuing education credits.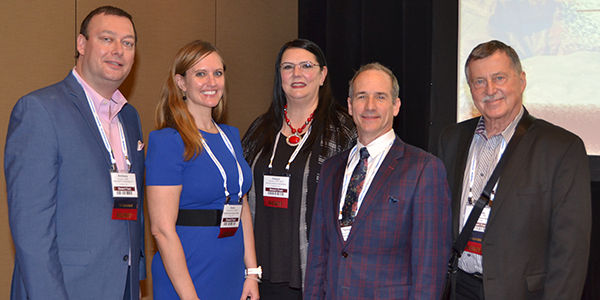 Pictured (L-R): Anthony Tickner, DPM, Emily Greenstein, APRN, CNP, CWON, FACCWS, Cheryl Carver, LPN, WCC, CWCA, DAPWCA, FACCWS, Tomas Serena, DPM, and Charles Andersen, MD
Desert Foot 2019 Photo Album
See the Conference Photos on Our Facebook Page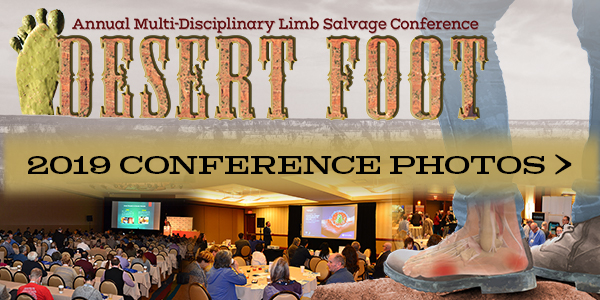 Registration Now Open for 2020 Desert Foot Virtual Conference

on December 5-6 and 12-13, 2020




Pre-Conferences on December 4 and 11, 2020


Click Here to Register