Desert Foot 2020 Conference Runs Virtually Over 6 Days
to the Largest Audience in Its 20 Year History
About the Conference
The Desert Foot 2020 Conference was run virtually this year during 2 consecutive weekends, Dec 5-6 and Dec 12-13 with pre-conference sessions on Dec 4th and 11th to the largest audience in its history. Over 925+ attended the event, which included DPMs, MD/DOs, RN/NPs, PAs, and PTs. The event was run on a virtual streaming conference platform that allowed extensive interaction between Attendees and Exhibitors. The event content focused on the care of the at-risk diabetic foot, both the preventative care and the best practices for critical limb ischemia, diabetic neuropathy, and limb preservation. Thank you to our Conference Co-Chairmen Charles Andersen, MD, Lee Rogers, DPM and Thomas Serena, MD who designed a comprehensive curriculum of lectures and ran a series of 14 Live Ask the Experts – Q&A Sessions utilizing a large and renowned Faculty. AAWC provided 2 Sunday sessions on wound care. Thank you to our Grand Sponsor 3M. PRESENT Co-Founder and CEO Alan Sherman, DPM said, "It's gratifying to see that the pivot we made to live virtual conferences has been so generally accepted by the Desert Foot audience. They tell us that although they look forward to attending conferences in-person again, they like the lower cost and convenience of earning their CME and maintaining their knowledge and skills from their homes and offices."
Thank you to all of our Sponsors for their continued support of PRESENT Conferences
and a Special Thanks to Our

Pre-Conference Sponsored by 3M+KCI
Attendees of the Desert Foot Virtual Pre-Conference Sessions were able to recognize interventions for effective management across the edema continuum; determine interventions to augment tissue repair and wound closure; and identify methods for preventing recurrence of these wounds. This program's renowned faculty provided current up-to-date content for standard and advance wound management interventions that will enhance the attendees practice decisions and clinical outcomes.

Thank you to Dot Weir, RN, CWON, CWS; Heather Hettrick, PT, PhD, CWS, AWCC, CLT-LANA, CLWT, CORE; James McGuire, DPM, PT, LPed; and Christopher Bromley, DPM. A special thank you to Pamela Scarborough, PT, DPT, MS, CWS, CEEAA for doing the Introductions and moderating the Ask the Experts – Live Q&A Sessions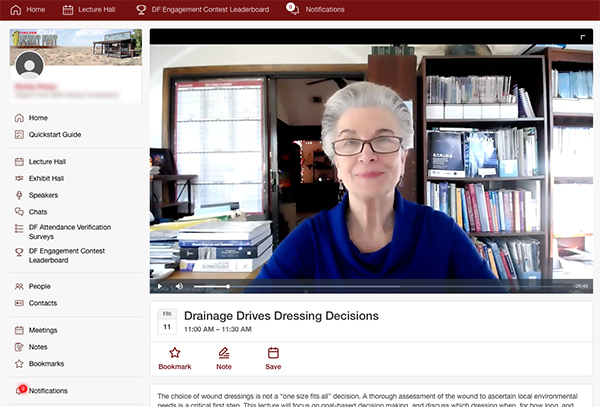 AAWC Track
Thank you to our presenters Kara Couch, MS, CRNP, CWCN-AP; Naz Wahab, MD; Brandy Rose, PT, DPT, CWS; Nikki Grace-Strader; and Marcela Farrer, DPM, MBA, CWS. As special thank you to Thomas Serena, MD for his role as Co-Chairman, Presenter, Introductions, and moderating the AAWC Ask the Experts – Live Q&A Sessions.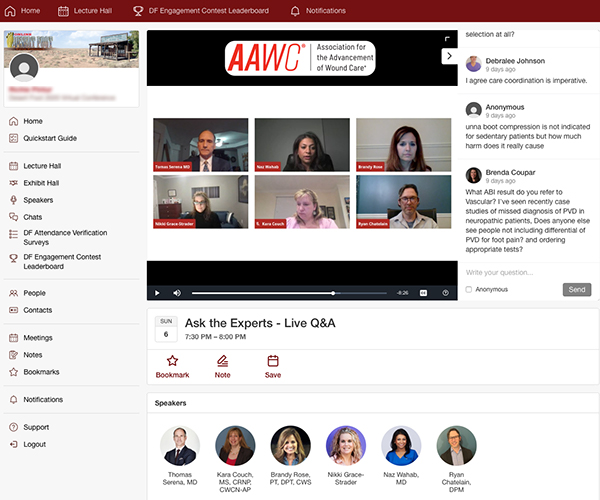 Next year's Desert Foot Conference will be run as a
virtual online event on December 4-5 and 11-12, 2021