Desert Foot 2021 Conference Runs Virtually Over 6 Days to Over 900 Attendees
About the Conference
The Desert Foot 2021 Conference was run virtually for the 2nd consecutive year over two weekends, Dec 3-5 and Dec 10-12 including 2 pre-conference sessions. Over 900 attended the event, which included DPMs, MD/DOs, RNs, NPs, PAs, and PTs. The event was run on a virtual streaming conference platform that has been universally praised by attendees and exhibitors for its ease of use and reliability. The event content focused on the care of the at-risk diabetic foot, both preventative care and best practices for critical limb ischemia, diabetic neuropathy, and limb preservation. Conference Co-Chairmen Charles Andersen, MD, Matthew Garoufalis, DPM, Thomas Serena, MD, and Harold Schoenhaus, DPM did an outstanding job putting together a world class faculty and a comprehensive agenda. The program included a series of 14 Live Ask the Experts – Q&A Sessions hosted by Charles Andersen, MD, Thomas Serena, MD, Robert Frykberg, DPM, MPH, and Pamela Scarborough, PT, DPT, CWS, FAACWS. Utilizing a large and renowned Faculty, they served as master classes on the best practices in the care of the diabetic foot. AAWC provided excellent educational sessions on both Sundays. The generous contribution of Grand Sponsor 3M was greatly appreciated. PRESENT Co-Founder and CEO Alan Sherman, DPM said, "It's gratifying to see that the live virtual conference format continues to be so widely appreciated by large audiences in podiatry and woundcare. In the post-event survey, 98% of attendees told us that they would attend similar events again in the future. They tell us that although they look forward to attending conferences in-person again, they like the lower cost and convenience of earning their CME and maintaining their knowledge and skills from their homes and offices." Nearly 30,000 CME credits, 3,000 ABPM MOC Points, and 6,800 X-ray credits were awarded. Next year, Desert Foot will return as a live in-person event at the beautiful Sheraton Phoenix Downtown Nov 30 – Dec 3, 2022, but PRESENT e-Learning Systems will continue to run standalone virtual conferences for those who prefer them.
Thank you to All of Our Sponsors for Their Continued Support of PRESENT Conferences
and a Special Thanks to Our

Pre-Conference Sponsored by 3M
Attendees of the Desert Foot Virtual Pre-Conference Sessions were able to recognize that chronic hard-to-heal lower extremity wounds from etiologies such as diabetes and phlebolymphedema often result in numerous challenges while promoting closure as well as high rates of recurrence. Healing impairments may be due to many contributing factors such as peripheral arterial disease, poorly managed diabetes, infection, and edema. Attendees also received up-to-date information regarding current evidence-based practice for lower extremity edematous vascular wounds. Content is delivered by well-respected faculty who will cover topics such as various chronic wound etiologies, edema, debridement, wound assessment, biofilm management, exercise prescription, dressings, in addition to adjunctive interventions that impact the wound environment to facilitate wound healing opportunities for all wound etiologies.

Thank you to Dot Weir, RN, CWON, CWS; Heather Hettrick, PT, PhD, CWS, AWCC, CLT-LANA, CLWT, CORE; Emily Greenstein, APRN, CNP, CWON, FACCWS; James McGuire, DPM, PT, LPed; and Matthew Garoufalis, DPM, FASPS, FACPM, CWS, FFPM RCPS (Glasg). A special thank you to Pamela Scarborough, PT, DPT, CWS, FAACWS for chairing and moderating the Pre-Conference Sessions.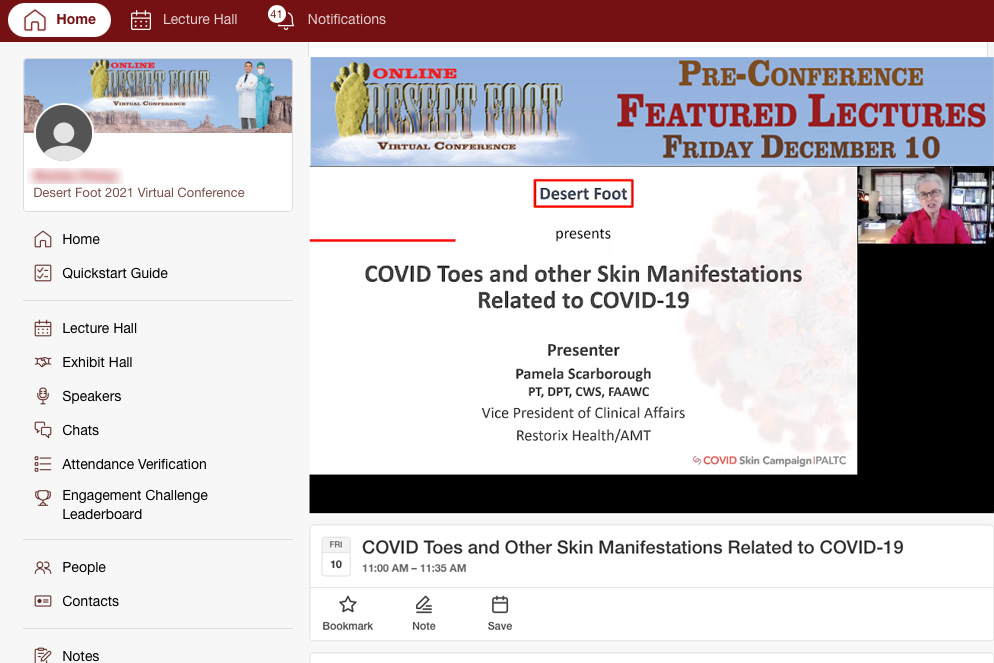 AAWC Track
Thank you to our presenters Jonathan Johnson, MD, MBA, CWSP; Naz Wahab, MD; Jacalyn Brace, PhD, ANP-BC, RN-BC, WOCN; Kara Couch, MS, CRNP, CWCN-AP, FAAWC; Marc Jones, DPM; Vycki Nalls, PhD, GNP-BC, CWS, ACHPN; Gregory Bohn, MD, UHM/ABPM, MAPWCA, FACHM, FAAWC; Karen Bauer, DNP, ARPN-FNP, CWS, DAPWCA; and Maria Goddard, MD, CWS, FAPWCA. Thank you to Robert Frykberg, DPM, MPH for moderating the AAWC Ask the Experts – Live Q&A Sessions.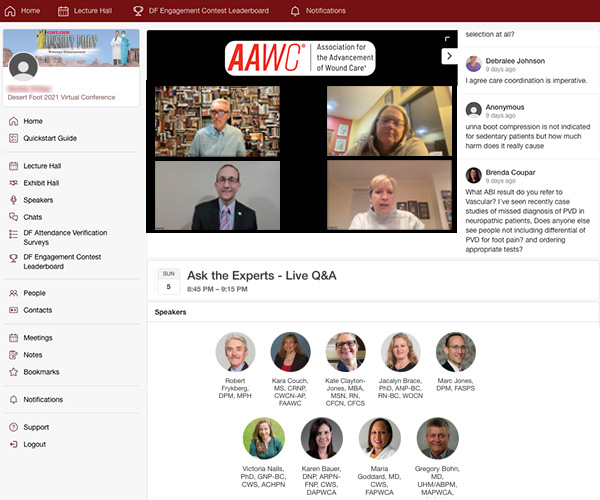 Engagement Contest
First Weekend Winners
Alex Bouhachem
Peter Felske
Jeffrey Feld
William Hesidence
Harpreet Khalsa
Andy Leung
Lucia Nguyen
Hetal Nalk
Nina Lum
Sang Hyub Kim

Eghosa Isa
Ramona Brooks
Melitta Simmons
Melissa Younger
Sapan Amin
Anum Dhukani
Daniel Hagan
Adam Macevoy
Ursula Felske
Marc Jones

Yilma Kebelo
Jaeha Song
Kiana Rene Trent
Erica Witherspoon
Kathya Zinszer
Adam Schmidt
Martha Holzworth
Asma Khan
Patricia Boehle
Stetson Schmitt

Rick Jennings
Nathan Hunt
Greg Bohn
Connie Lee Bills
Jordan Sheff
Rachel Clark
Mitchell Needleman
Sheila Feaster
Pauline Fu
Ido Friedman
Second Weekend Winners
Hilda Serrano
Steven DouthettM
Brent Beirdneau
Carolyn Whitfield-Zywiciel
Rodney Gallo
Michelle Murray-Clark
Dennis Shavelson
Kristin Toliver
Rachel Samsel-Militello
Erwin Mendoza

Rosemary Volpe
Frank Bercik
Maria Goddard
John Clarke
Constance Snell
Carrie Kincaid-Washington
Michael Hansen
Susan Warner
William Collins
Joe Bardin


Brian Mills Sr
Kevin Dodson
William Stayman
Elizabeth Weintraub
Stacy Uebele
Sheila Wright
Patty Flanagan
Esther Shin
Sonia Heidinger Amber Poirot


Keshia Oliver
William Fox
Jaclyn Marino
Petrusia Howansky
Barbara Puplampu
Sally Caraballo
Rose Sotolongo
Maria Cosentino
Rachel Lee
Carol Bowen-Wells

What Attendees are Saying
Overall, this conference was excellent and relevant to my daily practice with a variety of leading experts in the field.
Lena Georges, DPM
The most outstanding virtual program I have attended since Covid. The lectures were great and the exhibit hall worked as well as any virtual conference I have attended.
David Davidson, DPM
The ability to do CME at my speed was an invaluable resource. Great lectures and content! Thank you!
Brent Beirdneau, DPM
I was provided an incredible education during my first Desert Foot Virtual Conference. I now have an understanding of lower leg issues and symptoms.
Kathleen Mitchell-Eby, RN
Philadelphia, PA
I didn't want to miss one minute of lecture time for this was the best information yielding CME I have attended in years.
Jacqueline Porter, DPM
Join Us This Year When Desert Foot Returns as a Live In-Person Event to the

Sheraton Downtown Phoenix

in Arizona November 30 - December 3, 2022